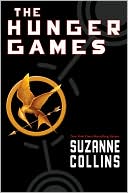 Thanks so much for all of the YA Lit suggestions you've been sending me. Our presentation is nearing completion, but by all means, please continue to send me titles as you think of them.
For those of you who have read it, I'm curious your thoughts on Suzanne Collins'
The Hunger Games
. Some middle-level teachers in my district would like to use it with 7th - 8th graders. What do you think about the appropriateness of the book for that age level.
It's on my list of things to read and I'm hoping to get to it soon, but I'd love to hear what you think.
Thanks!